Гидлоу Эльза (Elsa Gidlow)

Оригинал материала находится по адресу:
www.justaboutwrite.com/Herstory-Poet.html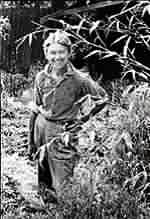 One of the more important mentors of lesbian feminism during the 1970s was Elsa Gidlow. A Bay Area poet, she originally came from Hull, England, and emigrated to Montreal, Canada, while still a child. As a young adult, Elsa moved to New York City and published On A Grey Thread in 1921, the first openly lesbian poetry book published in the United States. It was further expanded into a book entitled Sapphic Songs, published in 1982 by Druid Heights Press.

During the 60s, she was unsuccessfully prosecuted by McCarthyites determined to put such an outspoken lesbian woman in her place - out of the limelight. Essentially self-educated, her words touched the world.

She also made a living as a freelance journalist. In 1986, Elsa Gidlow published her autobiography entitled Elsa: I Come With My Songs. It and her papers are now part of The Gay and Lesbian Historical Society of Northern California. After publishing several books of poetry, numerous articles, and an autobiography, Elsa Gidlow suffered a number of strokes and passed away in 1986.