Ãðèìêå Àíäæåëèíà Óýëä (Angelina Weld Grimke)

Îðèãèíàë ìàòåðèàëà íàõîäèòñÿ ïî àäðåñó:
www.washingtonart.com/beltway/grimke.html
Àâòîð: Rebecca Villarreal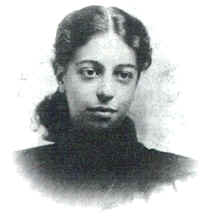 Phîto courtesy of Moorland Spingarn Research Center, Howard University



I did not expect to be so profoundly moved by the words of Angelina Weld Grimke. As a poet, playwright, essayist and author of short fiction, she is recognized as a forerunner of the Harlem Renaissance, although most of her work was published during the height of that era, in the early twenties. Howard University's Moorland-Spingarn Research Center houses manuscripts, both handwritten and typeset, letters and journals (one even has pressed flowers inside). Touching, reading and feeling the spirit of Grimke through these personal documents helped me to appreciate the quiet, but passionate woman behind the poems. I had researched her work through dissertations, books and some key biographical directories and websites, however it was not until I arrived at Howard that she came alive for me. I felt her passion and overarching longing, for a mother, a lover, a father who accepts all of her choices and an artistic community that could do the same.
In her poem, "Evanescence,"1 that longing is most pronounced:

EVANESCENCE by Angelina Weld Grimke
You are like a pale purple flower
In the blue spring dusk
You are like a yellow star
Budding and blowing
In an apricot sky
You are like the beauty
Of a voice
Remembered after death
You are like thin, white petals
Falling
And
Floating
Down
Upon the white stilled hushing
Of my soul.

In her manuscripts, she makes various edits to colors and descriptions but the only substantive edit occurs after the line "In an apricot sky" when she deleted "Beyond the reach of black, black hands" which speaks directly to the intensity of her feelings of frustration.
Angelina Weld Grimke was born in Boston, Massachusetts to Archibald Grimke, a nationally known lawyer and the executive director of the National Association for the Advancement of Colored People (NAACP), and Sarah Stanley Grimke from a prominent white family. Angelina's mother left her with her father at age seven and though there is evidence of correspondence between Angelina and her mother, they never saw each other again. As a result, Angelina grew extremely close to her father, while still longing for the presence of a mother. In the July 18, 1903, opening page of a diary2, she writes,
"This is my first attempt at a diary. Poor little book to bear so great a burden; But one must talk to someone or go mad and so little book I talk to you. You shall be my nearest friend for to you my heart is laid bair. [sic]
No answer yet. I shall hope for the best on Monday. I suppose I was a fool and oh how I wish I had a mother! One to whom I might go and bear my head upon her breast and weep away if possible all the bitterness. But this is the worst there are no tears only the endless ache and endless worry. No wonder the gray hairs are beginning to come."
This passage was written when Grimke was twenty-three years old. Throughout her life (since the age of eleven), she wrote poetry, essays, plays and short stories. Her most notable work, outside of her poetry, was the play Rachel, which focuses on the racial injustices suffered by African-Americans ranging from restricted job opportunities to lynching. The heroine promises never to bring black children into the world to endure this kind of suffering. Rachel was significant as it marked the beginning of the staging of black theater. Her prose work tended to illustrate her activist background, highlighting the plight of blacks in American society. These themes, however, constitute less than five percent of her poetry. The most common themes in Grimke's poetry are nature, love, loss (or death) and longing. The romantic and lyrical nature of her poetry set her apart from more prominent African-American literary figures of her time.
While Grimke never published a full collection of poetry, she wrote 173 poems of which 31 were published. She submitted poems, short stories and essays to Black literary journals and was published in Alain Locke's The New Negro, Countee Cullen's Caroling Dusk and in Robert Kerlin's Negro Poets and Their Poems. Since then, her poetry has been collected in various anthologies. In response to a letter from a student studying her poetry in 1925, she wrote,
"I think that most [poems] that I do are the reflections of my moods. These appear to me in clearly defined forms and colors--remembered from what I have seen, felt. The mood is the spiritual atmosphere. Symbolic also. I love colors and contrasts. Suggestion."
It also appears from all of the collected writings of Grimke that she was a lesbian who was not able to openly demonstrate her romantic love for women. Her father, in addition to society, discouraged her from doing so.
Grimke lived in DC from 1902 to 1930, from age 22 to age 50. She first taught at Armstrong Manual Training School and transferred to the M Street School (later named Dunbar High School) in 1907. Grimke took her literary and academic life quite seriously. While she began teaching physical education at Armstrong, she managed to move into teaching English. Apparently this caused some difficulty with the administration as she was accused of an "unfortunate temperament" by the principal and that she had, through covert maneuverings, managed to move into teaching English. Her father, Archibald, was very supportive throughout this time and encouraged her to transfer schools. He suspected that part of the principal's dislike of Angelina was a way to target Archibald whose professional and societal position often invited envy. It could also have been that as a bi-racial woman from a privileged family, she was singled out and labeled with an "unfortunate temperament." It seems that her challenges with school administrators continued at Dunbar as well. She began another diary on September 21, 1909 with a somewhat apathetic attitude and indicated that she was feeling "a trifle humiliated" because she was moved from second year English to first year English with the exception of a "IIa English" and expected that she might even have to do clerical work.
While living in DC, her correspondence was sent to 1526 L Street, NW and 1415 Corcoran Street, NW. Her Corcoran Street address appears on several of her typed poems, indicating that she was living there while sending pieces out for publication. Many of these poems seem to observe nature from the windows in her room. In "Butterflies"3, she tells the story of white butterflies and personifies her little house. The butterfly can see the woman through the window, into the house. She seems to be describing herself:

Her dark head slanting against her chair's white back
Her dark head heavy,
Her dark head weary.
Nothing but weariness left:
Weariness of hand and foot and knee and back;
Weariness of wide, unquiet eyes glimpsing things unseen,
Weariness of wide, unquiet eyes forgetting you,
Remembering you, forgetting you again...

All this darkness is actually buttressed by light. She refers to the "wide eye of the south window there" and sun and air. The opening and closing stanzas are quite celebratory:

Butterflies, white butterflies, in the sunshine,
Have you seen them? Really seen them?
............Lovely things!

This poem is an excellent demonstration of Grimke's own comments about her poetry. Her mood moves from light to heavy to light again which seems indicative of the inherent tensions in her life, not the least of which is her sexuality. Her Corcoran Street diary also illustrates the intense self-criticism she seems to feel in her daily life. Her December 31, 1911 entry is preceded by a "Prayer For The Coming Year"4--something many of us may do when starting a journal at the beginning of the calendar year--but just note the emotions in her entry:
"Dear beautiful God, who art so far away, come through close to me day by day. My plea is humble. I am evil and my ways are evil, and my will is weak. Strengthen thou my will. Teach me the habit of conquering myself. Keep me cheerful in the doing thereof, and keep me brave."
How could Angelina Weld Grimke think of herself as evil? We all have moments of self-doubt, but her journal entry indicates a level of self-criticism that could be linked to her sexuality. As a clearly passionate person, it had to be torturous to feel love so intensely and have its expression be limited to the page or to correspondence. In addition, her relationship to her father was so intimate that any possible disapproval from him might have been unbearable. Her love poetry, at times, even demonstrates how little she is willing to settle for when it comes to physical love. In "Give Me Your Eyes"5, she craftily asks for a glance, a meeting of the spirits and not the body, though the second to last line does feel like a climax:

Give me your eyes.
I do not ask to touch
The hands of you, the mouth of you,
Soft and sweet and fragrant though they be.
No, lift your eyes to mine;
Give me but one last look
Ere I step forth forever;
E'en though within that moment's crashing space
I shall know all of life and death and heaven and hell.

In 1978, Audre Lorde, the black lesbian poet/essayist, delivered a paper called "Uses of the Erotic: The Erotic as Power" at the Fourth Berkshire Conference on the History of Women. (Reprinted in Sister Outsider, The Crossing Press, 1984.) She stated, "Our erotic knowledge empowers us, becomes a lens through which we scrutinize all aspects of our existence, forcing us to evaluate those aspects honestly in terms of their relative meaning within our lives." Lorde also likened the erotic to a "kernel" and noted, "I find the erotic such a kernel within myself. When released from its intense and constrained pellet, it flows through and colors my life with a kind of energy that heightens and sensitizes and strengthens all my experience."
Grimke retired from teaching in 1926. From 1928 until 1930, she cared for her father during his final illness. After his death, Grimke moved to New York City, and lived a reclusive life. She never published again.
Grimke's poetry demonstrated a profound, though often despairing, passion for life. Though inhibited in many ways by society's and her father's limits on her sexuality and womanhood, Grimke still managed to find deep expression and exercise her creative muscles and the power of the erotic by simultaneously capturing nature, the sexual body and desire in the lines of her poems, an artful feat perfectly demonstrated in her poem, "Grass Fingers".