Гримке Анджелина Уэлд (Angelina Weld Grimke)

Оригинал материала находится по адресу:
www.scils.rutgers.edu/~cybers/grimke2.html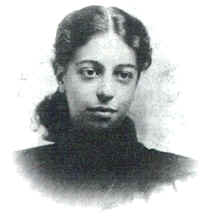 Angelina Weld Grimke was born in Boston, the daughter of Archibald Grimke, a prominent journalist who served as Vice-President of the NAACP. The Grimkes were a prominent biracial family whose members included both slaveowners and abolitionists. Two of her great aunts, Angelina and Sarah, were prominent abolitionists in the North. Angelina Weld Grimke was named after her aunt who had died the year before. Grimke's mother, Sarah Stanley Grimke, a white woman, left her husband under the influence of her parents who never approved of her interracial marriage, and took her three-year old daughter with her. However, at the age of seven, Angelina was returned to her father, and although she and her mother corresponded, they never saw one another again.

Angelina attended prestigious liberal schools in Minnesota and Massachussettes, earning a Physical Education degree at the Boston Normal School of Gymnastics. She later taught at the Armstrong Manual Training School and Dunbar High School in Washington, DC. Although she began teaching as a gym teacher, she became an English teacher in 1907 and continued teaching English until her retirement 19 years later.

Grimke had already begun to publish poetry by the time she arrived in Washington DC. In 1909 she published her first widely anthologized poem, "El Beso" a lyric meditation on love. Grimke's poems covered many subjects from the social to the romantic, although her preferred theme appeared to be love. Grimke never married, most likely because of her lesbian tendences which she revealed only in her poetry and journals. It is believed that she had an adolescent affair with Mamie Burrill, which she alluded to in a letter written in 1896. After this affair ended, Grimke apparently confined her longings to her writing.

After Grimke's father died she moved to New York City where she spent the last years of her life a virtual recluse and produced almost nothing. She died in 1958 after a long illness.