Ãðèìêå Àíäæåëèíà Óýëä (Angelina Weld Grimke)

Îðèãèíàë ìàòåðèàëà íàõîäèòñÿ ïî àäðåñó: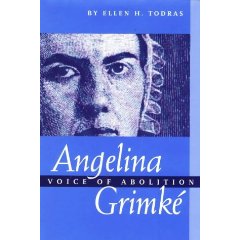 Gebundene Ausgabe: 178 Seiten
Verlag: Shoe String Press Inc.,U.S. (31. Oktober 1999)
Sprache: Englisch
ISBN-10: 0208024859
Größe und/oder Gewicht: 23,7 x 15,9 x 2 cm

Born into a prominent Charleston family in 1805, Angelina Grimke was led by her religious beliefs to oppose slavery and to leave the South in order to work in New England for the abolition of slavery and for women's rights. She overcame her natural reticence and the conventions of the time to speak in public for the causes she believed in. Thoroughly researched, the book contains many quotations, giving readers a taste of Grimke's words and a sense of the times. Illustrated with reproductions of paintings, engravings, documents, and photographs, this handsome book ends with an appendix, including texts and excerpts from Grimke's speeches and letters as well as a time line and bibliography. Certainly of regional interest, this book will also prove useful to those researching the abolitionist movement. Carolyn Phelan

From School Library Journal
Grade 7 Up-Born in 1805 into a wealthy family of South Carolina slave owners, Grimk? witnessed firsthand the horrors of slavery. She eventually fled north with her sister, Sarah, where they joined the Quaker religion and gradually moved into abolition work. She was a forceful figure, speaking out against slavery at a time when women seldom spoke in public on any topic at all. Throughout her life, she also espoused the idea of women's rights, a rarity in the early-to-mid 1800s. Todras's well-researched text is detailed but accessible. Numerous quotes from the letters and speeches of Grimk? and her contemporaries appear throughout. However, because of the subject matter, it will help if readers have at least a basic knowledge of the Civil War and the factors that fed into it. There are a few black-and-white drawings and photos of the subject and her family, as well as depictions of other abolitionists. A solid introduction to a strong and remarkable figure in history.
Kristen Oravec, Cuyahoga County Public Library, Strongsville, OH
Copyright 1999 Reed Business Information, Inc.