Бен Афра(BEHN,APHRA(otherwise AFRA, APHARA or AYFARA).

Love-Letters Between a Nobleman and his Sister
London. Randal Taylor, 1684.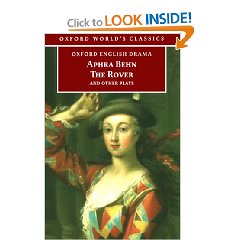 The Rover and Other Plays (Oxford World's Classics)






Oroonoko is quite possibly, and arguably so, one of the earliest American novels. This Norton critical edition goes above and beyond the original work by including annotations, critical essays, as well as pieces of the play adapted by Thomas Southerne.
Oroonoko is the story of an African prince named Oroonoko and his love Imoinda. Oroonoko's father, the king, takes a fancy to Imoinda and takes her into his harem. Oroonoko does not like this, and holds secret meetings with Imoinda to the anger of his father, who then sells her as a slave.
Oroonoko, as well, comes to meet slavery through an English slaver, and is sent to a Suriname sugar cane plantation.