Брэдли Катарина (Katherine Harris Bradley)

Оригинал материала находится по адресу:
www.library.ubc.ca/spcoll/Colbeck/writers/field.htm



Michael Field (pseud)
Katherine Bradley, 1846-1914
& Edith Cooper, 1862-1913

Bradley and Cooper collaborated under the name of Michael Field, producing some eleven volumes of poetry and thirty historical tragedies, in the form of verse drama.

Katherine Bradley published her first volume of poetry The New Minnesinger in 1875, under the pseudonym of Arran Leigh. At this time she was also attending Newham, the Cambridge college for women, and was a member of the Guild of St. George, a Utopian society founded by Ruskin in 1871. Ruskin and Bradley were regular correspondants.

Edith Cooper wrote poetry from a very young age, and their first collaboration was in 1871, under the name of Arran and Isla Leigh. They chose a new name in 1884 - Michael Field - to publish a pair of verse plays, Callirrhoe and Fair Rosamund, which received rave reviews.

They formed friendships with Walter Pater, Mary and Bernhard Berenson, Charles Ricketts, Charles Shannon, and many others in literary and artistic circles.

Although they wanted to maintain the strictest secrecy about their identity, they did confide in one friend, Robert Browning, and were subsequently identified as "she" in the Athenaeum by a reviewer within a few months.

To some extent they maintained their anonymity with the public, but their friends came to call them "Michael."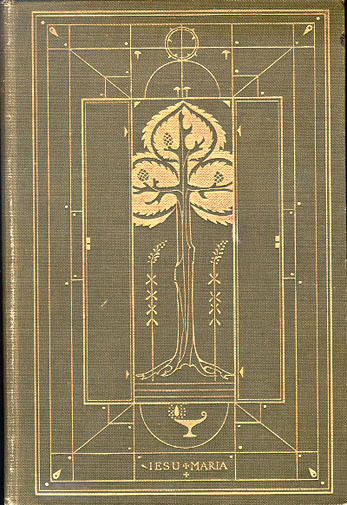 Field, Michael.
Mystic Trees.
Eveleigh Nash [1913].

Green cloth, spine and upper side gilt-lettered and designed, all edges uncut, the design being by Charles Ricketts.

Undoubtedly the prime "association" book of this colletion. It has the Hawkesyard library stamps, and on the half-title Father Vincent McNabb (the Prior) has written: "This copy was given by 'Michael' to 'Henry.'" Above this, in Miss Bradley's hand: "on the day of the Apparititio, 1913. Michael."